How Does Safety-Check® Work?
Safety-Check® uses a unique patented system.
The gauge bracket bolts on to one of the existing chamber mounting studs. The bolt-on bracket is fitted with a gauge plate preset to the allowed chamber stroke readjustment limit. This patented gauge plate system is also adjustable to accommodate chamber sizes from type 9 through type 30 long stroke.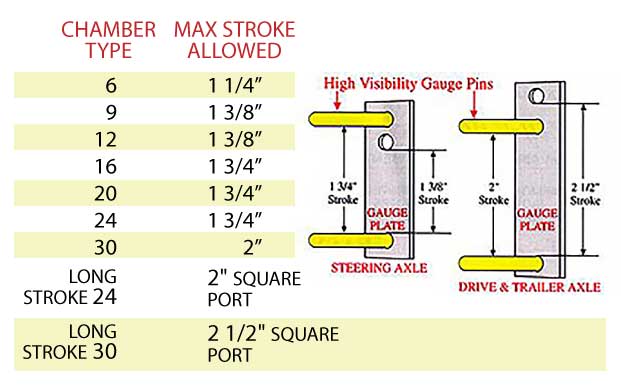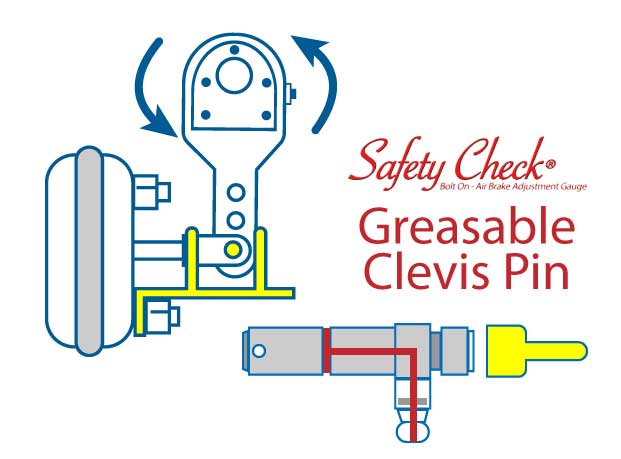 IMPORTANT TO NOTE: Automatic slack adjusters do not reduce the need to do a daily inspection for air brake adjustment.
Safety-Check® On Power Units
The clevis pin connecting the pushrod clevis to the slack adjuster is used to hold the gauge indicator. This patented indicator system uses a new supplied clevis pin with a high visibility indicator for precision measurement. The clevis pin is supplied in 1/2" or 5/8" diameter.
Safety-Check® greasable clevis pins are an industry exclusive. Our optional pin allows the lubrication of the pin, slack adjuster bushing and clevis eliminating seizing or binding. PATENTED
Safety-Check® gauges are installed permanently on each air brake chamber in minutes and require no modifications and never wear out.
Safety-Check® On Trailers
The trailer gauge bracket is a formed high strength steel member and is unbreakable. Universally adjustable to suit all trailer applications and chamber strokes.
Standard greasable clevis pin fits manual or automatic slack adjusters. The new standard greasable pin is included with the SYSTEM II trailer gauge when ordered as greasable.
Also available separately for trailers or power units.